Breakfast at Bluebells Cafe - Matt and Cat's Foodie Feature
Penned on the 3rd December 2013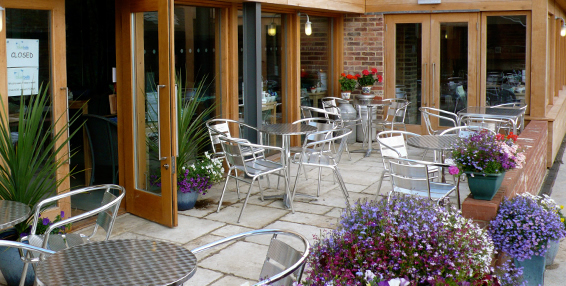 Along with 'roast and all the trimmings', the term 'farmhouse breakfast' is often used to promise much and deliver little. Matt and Cat were once woefully disappointed by the breakfast they had in a creaky old half-timbered farmhouse in the wilds of Chelmsford.
Despite being an active farm since the sixteen hundreds, the knowledge of how to cook and serve a decent 'brekkie' must have been lost in the mists of time. Breakfast was a sloppy scrambled egg served with barely-rehydrated dried mushrooms and - the ignominy - a single shrivelled cocktail sausage.
It doesn't have to be like that though. No, sir! By far the best farmhouse breakfast on the Isle of Wight is that served at Briddlesford Farm's Bluebells Cafe in Wootton.
This working dairy farm has been in the Griffin family for nearly a century, and they have made their mark with improvements which include a spacious and airy cafe. Matt and Cat recently went there for a midweek breakfast and were happy to report that it was nothing like the lame excuse for breakfast that they had been served in Essex.
At Bluebells, vast plates were burdened with two succulent sausages hugging a fried egg - cooked with the requisite runny (but not snotty) yolk; A vast field mushroom lay against a brace of meaty rashers and the juice from four fresh tomatoes was no match for doorstops of granary bread, slathered with the farm's own salted butter.
And, with your Matt and Cat's Dining Club card, this fabulous farmhouse breakfast is currently buy-one-get-one-free. Worth getting up for - although probably no need to rise as early as the dairy farmers themselves!