Shanklin
Penned on the 1st December 2011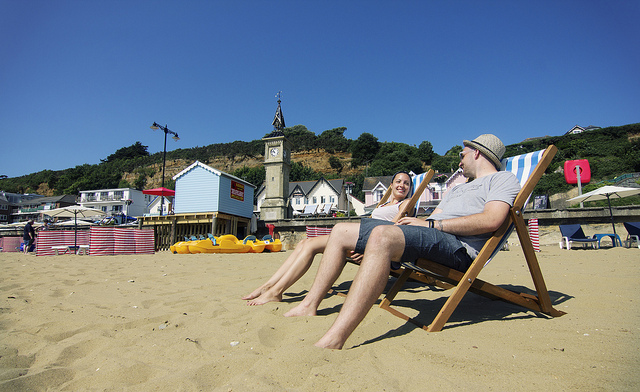 The pretty Victorian seaside village of Shanklin is located on the south eastern corner of the Island and is famed for its good weather and quaint Old Village with its picture postcard thatched cottages. Here you will find unique gifts, unusual items and mementos to remind you of your time on the Island. The heart of the Old Village also has a bustling nightlife with several pubs regularly showcasing live music at the weekends.

The safe sandy beach is sheltered by Dunnose Point, which is a stunning backdrop, with the tall cliffs of Luccombe and St. Boniface Downs beyond, all National Trust land. By the beach there is pitch and putt, childrens amusements and car parking. A lift provides easy access to the cliff tops, where the views are even more spectacular. Wander inland to the Old Village and see the picturesque thatched cottages, quaint streets and traditional cafes.
Walkers can take the coastal path through the Undercliff through National Trust land to beautiful Bonchurch full of old stone Victorian buildings and on to Ventnor. Or for an easy stroll, walk in the other direction along the sea front from Shanklin to Sandown. I would recommend The Salix Beach café for a great view and Blueberrys Café on the coastal path overlooking the bay.
Shanklin Chine is a deep gorge carved out by a stream, which is a restful and picturesque place to spend time. In the evening the waterfalls and woodland are illuminated, giving the gardens a totally different aspect and atmosphere.
The Chine is the Isle of Wights oldest tourist attraction, opening in 1817. This famous leafy gorge is much loved by poets, artists and writers. The winding woodland, with its steep sides is a magical place for rare plants, wildlife and enchanting waterfalls.
The Heritage Centres exhibition relays the Islands long connection with flying and aircraft construction. A video and display of PLUTO (Pipe Line Under The Ocean) shows the fascinating story of how the pipeline carried petrol to the Allied troops in Normandy.

Shanklin has plenty of great eateries, and I can personally recommend the following:
The Old Thatch Tearooms for cream teas and cakes, The Royal Hotel for old fashioned elegance and traditional afternoon tea, Pendletons for friendly service and good food , Vernon Cottage for local fresh Crab sandwiches and the beautiful Rhylstone Gardens for Cream teas and Crazy golf.
If you venture to Bonchurch you must visit the 12th century church. For eating try the Bonchurch Inn for fabulous old world ambience and Italian food.
Take a look at our lovely collection here; Cottages in Shanklin, and start planning your next holiday.