Ten places to dine outdoors in 2021
Penned on the 30th December 2020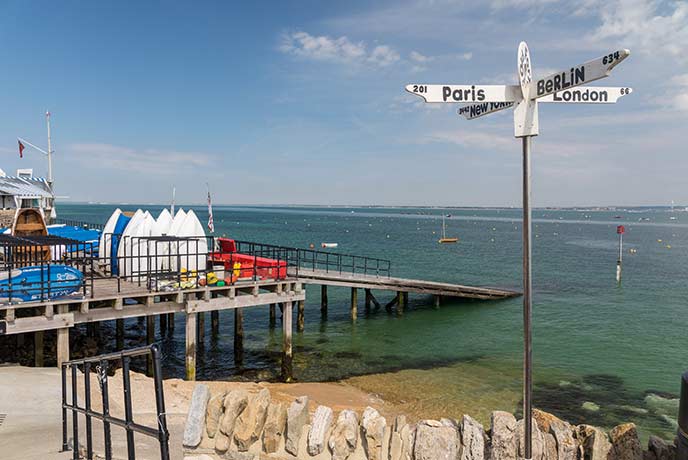 The Isle of Wight is blessed with stunning scenery both inland and along its 70 miles of coastline. There's lots of choice when it comes to dining with a view and being outdoors is the icing on the cake, especially overlooking the sea. Whether you are looking for fine dining or coffee on the go, here are our suggestions for 2021.
Overlooking the Solent and its majestic forts, The Old Fort is a rustic, charming restaurant and the perfect place to watch the yachts sail from the nearby yacht club. Outdoor seating is across the road from the restaurant but don't let that put you off, cars travel very slowly along the sea front so they aren't an issue. Open for lunch and dinner, it is a lovely spot to sit and watch the water world go by.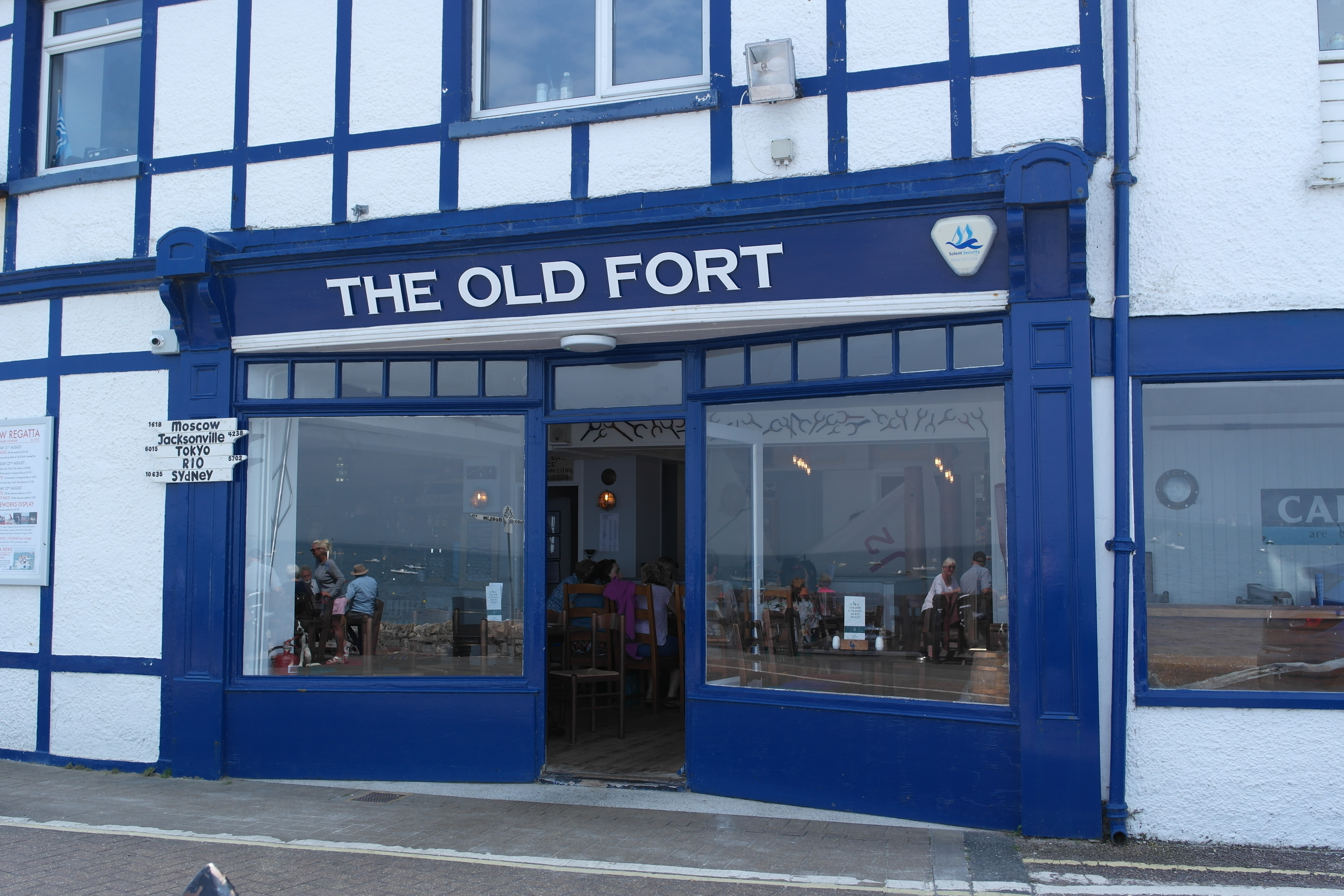 2. The Crab & Lobster, Bembridge
Recently refurbished, this pub is part of the Character Inns group on the Island and offers traditional pub grub alongside locally sourced seafood and Island reared meats. Inside the pub is cosy and comfortable with a real fire to keep you toasty in winter. Outside there is a large decked area with tables overlooking Bembridge Ledge. Ideally situated on the coast path, this place makes a great refreshment stop and is a magical place to sit and watch to sun go down.
3. The Beach Shack Bar, Sandown
You can't get much closer to the beach that this place, the sand is literally feet away from the terraced tables. There are two levels plus an inside dining area, all furbished in a typical shack style. Food is burger/pizza type fast food and it is perfect if you want to order takeaway and eat on the beach below.
4. The Crab Shed, Steephill Cove
Tucked out of the way down a steep hill (the clue is in the name!) and only accessible on foot, this tiny cove is home to one of the islands best kept secrets. Offering hot crab pasties alongside daily specials, The Crab Shed is a wonderful place to soak up the sun and enjoy fresh fish and seafood. Open from Easter to October, do check opening times before you set off as it only opens in fine weather and closed on Tuesdays.
Situated on the old railway line which closed forever in 1953, this lovely café/restaurant has been created from the former train station and has views overlooking the Yarmouth Marshes. It's only a short walk to the ferry terminal in the town centre and the perfect place for walkers, cyclists, tourists and locals. Inside, the restaurant has been created similar to a carriage and outdoors you can sit on benches to enjoy the countryside and wildlife. Dogs are very welcome guests here and there's even a special dog menu with dog friendly ice-cream for dessert. If takeaway is your preference just give them a call.
Named after a previous owner who was the piano tuner for Queen Victoria, this eclectic café is only a short walk from the seafront and offers breakfast and lunch alongside mezze-style dining on Friday and Saturday evenings. Food is freshly prepared using local produce and there are regular live music events to keep you entertained. It is a popular place so you'll need to book ahead. The outside seating runs along the front of the building and is a lovely place to sit during the summer months.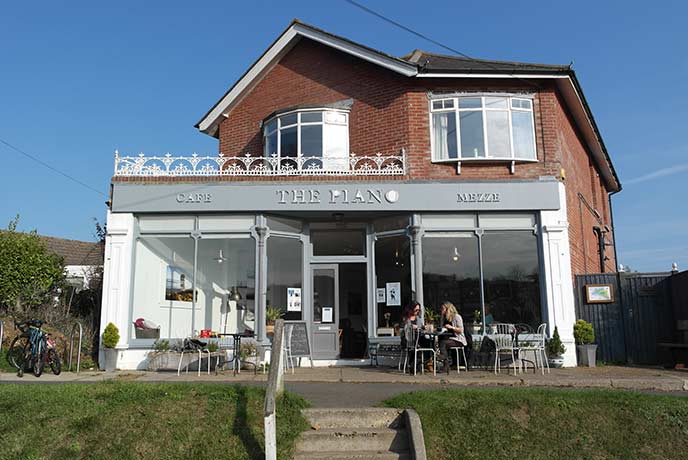 7. The Old Village Inn, Bembridge
Slap-bang in the middle of the village, the OVI (as it's affectionately known by locals) offers up a menu of traditional pub grub alongside fresh fish and homemade pizza cooked in their very own pizza oven. Jay, landlord of the OVI has worked incredibly hard during lockdown to create additional outdoor and undercover seating so whilst there may not be a sea view from here, it is still well worth a visit as you and your dog will be made very welcome.
Sitting high up on the cliffs of Culver and with panoramic views over the Solent, this pub offers some of the most spectacular views on the island. Inside there is a large seating area and outside lots of places to sit and admire the view. A word of warning though, don't sit outside when it's windy, your chips will go cold!
9. The Bakery, Bembridge
On the High Street you'll find this lovely bakery which offers the most amazing cakes, breads and quiches, all baked daily. A personal favourite is the Bembridge Bun, go on, you'll be glad you did. There's also inside seating and through the patio doors a secluded terraced area outdoors where you can sit and enjoy refreshments sheltered from the wind. Dogs are welcome both inside and out and a dog biscuit is usually on offer to well behaved hounds.
In an idyllic position between the sands of Ryde beach and the woodland of Puckpool Park, park your car in Puckpool car park (pay and display) and enjoy a stroll along the seafront with its far-reaching views across the Solent. The Dell is tastefully furnished and offers brunch, lunch and summer evening dining where you can watch the sunset. Outside you can sit around tables on the seawall and watch the everchanging tide. Dogs are very welcome year round on the western end of Appley beach, perfect for a game of catch after lunch.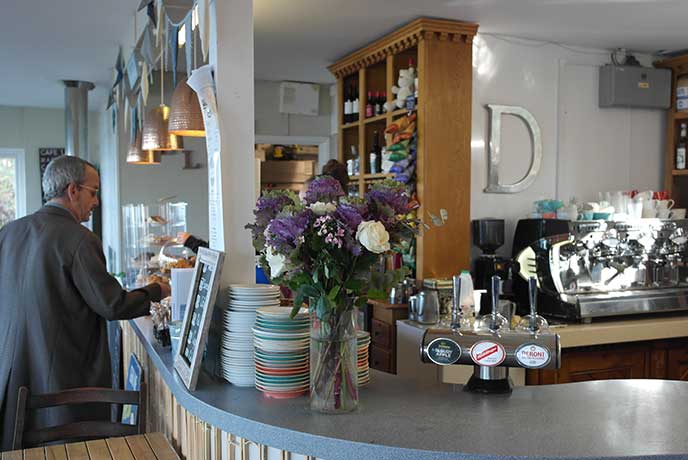 It is recommended you ring ahead as many establishments require bookings and/or pre-orders at present and due to current restrictions some may be temporarily closed.