The King's Head, Yarmouth
Penned on the 29th April 2013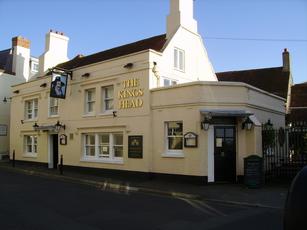 The King's Head is a great local pub restaurant opposite the harbour in Yarmouth on the west coast of the Isle of Wight.
You'll receive a warm welcome to this traditional 16th century pub, which has a beer garden to sit out and relax during the summer months. There's also a log fire to warm you in cooler months.
You'll find a full selection of drinks, wines lagers and beers that change regularly including Sharps Doom Bar, Young's Special and locally brewed "Holy Jo" from Yates Island brewery.
Delicious locally sourced traditional food is served in the restaurant, all freshly prepared on the premises. The extensive menu serves traditional pub grub and locally caught fish, or catch of the day.There is a large selection of sandwiches and baguettes, as well as children's menu.
The King's Head, Yarmouth - 01983 760 351