Top Isle of Wight Pet Friendly Walks
Penned on the 20th September 2016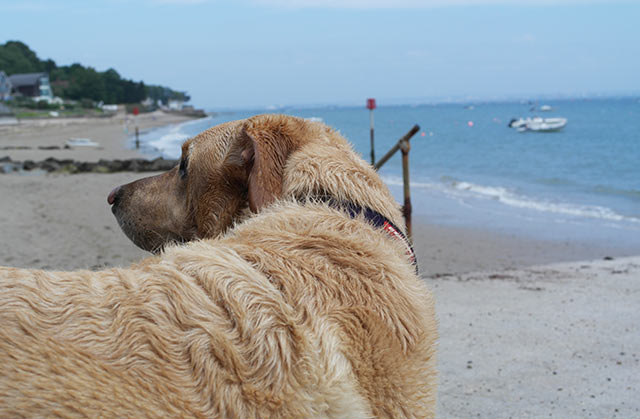 The Top 6 Pet Friendly Walks on the Isle of Wight According to manaboutadogblog
The Island is a beautiful place. Don't take my word for it. Ask Queen Victoria, ask Alfred Lord Tennyson, ask Alan Titchmarsh! It is truly walking heaven and now Wight Locations have asked us to pick out the six best walks for you and your dog. So we pulled on our boots and came up with the following.
Yarmouth to Freshwater - approx 3.5 - 4 miles
Yarmouth is one of the prettiest towns on the island and so a post/pre walk wander around its little shops is a must. When you are ready to start the walk it can be found behind the main car park that sits opposite the Yarmouth - Lymington ferry terminal. You'll start on a path that circumvents the estuary and passes the old mill. You'll then set off on a flat cycle/walking path along the river Yar to Freshwater. There is a wealth of wading birds to be seen as you stroll along and even kingfisher have been spotted here (by me!). We walked about 1.5 miles then at the first bridge turned right for a pit-stop at the Red Lion (see our top pubs). There is a circular walk that you can do by following the path to the side of the church, but we simply returned the way we came. This handily meant that by veering right at the mill we could detour to the Off the Rails Cafe (see our top cafes), perfect for a post walk tea and slice of cake!
Carisbrooke Castle - approx 2 miles
Grenson likes to do this walk with his friend Herbie who lives nearby. Before getting to the castle they first have to have a wrestle in a nearby field. Poor Herbie who is 10 years old gallantly puts up with Grenson constantly jumping on his head. All around the castle you'll find public footpaths perfect for a good leg stretch, but we favour a historical walk around the moat. It's a great way to appreciate the castle's imposing structure, and looking at those uncompromising walls you can imagine King Charles might still be being held prisoner inside. Grenson meanwhile, like the small boys who are brought here in the school holidays, doesn't take much notice of the history and instead enjoys running up and down the dried up moat for hours on end. If only he had a wooden sword and a suit of armour!
The Landslip - approx 2 miles
Warning: this is definitely not a flat walk. In fact if you choose the route which includes the Devil's Chimney then it is virtually vertical. But trust me it is worth the effort. We park in a car park near the Smugglers Haven tea rooms (handy for an ice cream). From there you follow steps down into the woods then head south along the coastal path towards Ventnor. You'll find yourself on an undulating path through ancient woodland with various viewpoints and a 'wishing seat' that is well worth looking out for, if only for the Instagram opportunities. Eventually you come out at Monks Bay which sits below the town of Bonchurch. From here we suggest that you travel up the hill, past the Old St Boniface church that dates back to the 11th century, and then on past the other St Boniface church which is only 150 years old, so a virtual young nipper in comparison. You'll also pass a number of blue plaques, (Bonchurch was a big destination for Dickens and the gang). Eventually you'll arrive at the Bonchurch Inn (See our Top 6 Pubs) A perfect halfway point for any walk. Eventually, when you manage to tear yourself away from this brilliant pub, you can either go up the hill to the main road and turn right to get back to the car park, or follow your footsteps back and work off some of your lunch!
Ryde to Fishbourne - approx 2.5 miles (5 miles if returning to Ryde)
This is a nice convenient walk for us as Ryde is our local town. However, the fact that Ryde is one of the transport hubs of the island means that it should be pretty easy for all to get to (you can even get here by hovercraft if that's your bag). Start by walking away from the town centre along Spencer Road then take the path that cuts through the golf course (watch out for rogue balls!). This takes you along 'Ladies Walk' whose name always leads me to expect to see Victorian ladies in big heavy dresses strolling by. (Unfortunately this cannot be guaranteed). Further along the walk you will come to the ruins of the old Quarr Abbey, and a little further still you'll arrive at the new Quarr Abbey, complete with a very fine tea shop (unfortunately dogs are only allowed outdoors, boo!). Never fear, a more dog friendly pit-stop awaits you just a little further along the path at the Fishbourne Inn, a most pleasant pub with a fine blackboard of local fare. If you're not feeling energetic after all of that then there is a bus stop on the main road that can take you back to Ryde, alternatively just stroll back the way you came.
Alverstone circular walk - approx 2.5 - 3 miles
I stumbled across this walk whilst completing the Randonnee (an annual cycling event which includes a ride around the entire circumference of the Island....or just half, if like me, you decide that the full course sounds insane). Whilst all the MAMIL's (Middle Aged Men In Lycra... there were women too, but sorry it ruins the acronym) headed away from Alverstone on their way to the Needles and back, I turned right to follow the old railway path that leads to Newchurch. And most enjoyable it was too, due in no small part to the trickling stream by my side and the woodland all around me, but mainly because it was a path of lovely flat smooth tarmac. At Newchurch you'll find the Pedallers cafe which welcomes cyclists, walkers and doggies...and does a fine flat white too. On your return to Alverstone you can carry on a little further and discover the hide from which, if you're lucky, you can get red squirrels literally eating out of your hands. Best not to enter the hide with your dog though. Not a good idea for squirrels to try to eat from their paws!
Firestone Copse - approx 2 miles (but really up to you!).
This is one of the most popular dog walks on the Island, as a result you'll find a whole gang of canines in the car park, all in differing states of post/pre walk excitement. Maintained by the Forestry Commission, Firestone Copse is a spectacularly beautiful area. You will quickly appreciate why it is favoured by so many dogs and their owners. The main path takes you on a flat stroll around the copse, but all around it are offshoots if you feel more adventurous. The last time we were there we ventured down to look at the Old Mill Pond which flows from Wootton Creek and it was truly stunning. I especially like this walk during the autumn/winter months when the leaves are golden, and you get to trudge around in wellies and woolly hats, but truth be told, all year round I think you'll find this one to be a winner.
So there you go. Get on your walking boots and take rover out to explore this beautiful Island. You won't regret it.