The Island is the Dinosaur Capital of the UK!
Penned on the 28th January 2013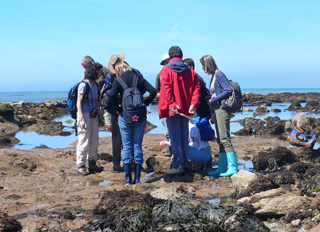 According to a new Dinosaur Map of Britain compiled by Dr Paul Barrett, Merit Researcher from The Natural History Museum, the Isle of Wight has just been declared the UK's Jurassic Capital
Obviously, as Islanders, we already knew this, as can be seen by some of the great Dinosaur attractions we already have on the island.
Where to Go...
One of these, and an authority on the great beasts that roamed our small island millions of years ago is Dinosaur Isle. What is great, is that they even have monthly Fossil & Geology walks, Exhibitions & other events, so whenever you want to visit, there is an event for you.
With many of our properties located on the East coast of the Island we are perfectly placed to provide you with a base for your fossil hunting trip. Whitecliff Bay is described as "a geologists heaven", other key areas on the Island can be found on the UKfossils website.
Eotyrannus, a relation of the famous Tyrannosaurus Rex, was found by Isle of Wight based amateur collector Gavin Leng in 1997 in the south of the Island. There is now a one third scale model — about one metre high — has been created.
Visitors to Compton Bay can also see four different types of dinosaur footprints, including Eotyrannus and the fearsome Neovenator raptor, in the display.
According to the experts, 125 million years ago the Isle of Wight, then part of the mainland, was an ideal dinosaur habitat. Fossil collectors and paleontologists find the area known as the Wealden Outcrop, is prime dinosaur hunting territory. The south coast, between Compton and Sandown, erodes by as much as 30 feet a year, uncovering a layer of soft clay that regularly gives up dinosaur bones and other fossils.
Today, visitors exploring at low tide near the island's south and east coastal cliffs can see giant fossil footprints at Hanover Point just along Brook Beach in West Wight and they could find much more. A bone from the neck of a giant Sauropod, believed to be 85 feet long, was found along this coast.
Take a look at our Isle of Wight cottages for your next fossil hunting trip but do make sure you stay safe. Cliffs can be unstable so if you're searching for fossils, chip away at rocks that have already fallen onto the beach and stay away from the bottom of cliffs.