Half term activities, and they're free!
Penned on the 22nd April 2016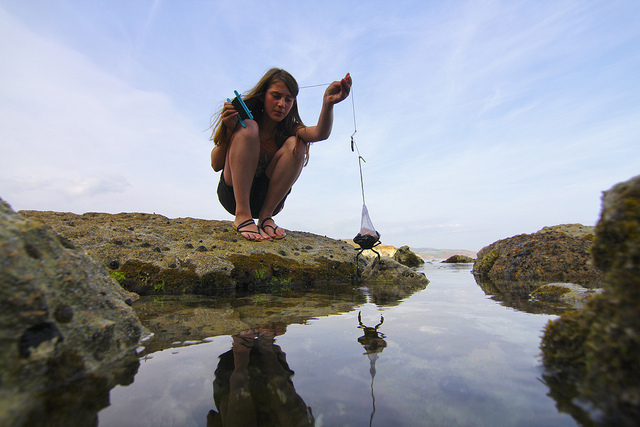 The school holidays don't have to cost a fortune, especially when the Isle of Wight has so much to offer completely free!
We've picked some suggestions for keeping the family busy during the upcoming May half term, which are open to all and don't come with any annoying entrance fees.
Rock pooling
The Island of Wight is famous for its sandy beaches, but there's a great deal of fun to be found in the rockier areas of the Island. At low tide, the beaches at Seaview and Bembridge become a treasure trove of marine wildlife, where all sorts of small creatures can be discovered in the hundreds of rock pools left by the retreating tide. If you're over on the West Wight, pop down to Freshwater bay and explore the 'cabbage patch' pools – footwear is advised!
Woodland walks
In addition to the many miles of beautiful coastline, the Island also has a great deal of unspoilt rural areas and woodlands. There are some easy to reach areas just outside of Newport at Parkhurst Forest and also towards Ryde at Firestone Copse.
The forestry areas are perfect for dog walks, exploring and off-road cycling.
Wildlife spotting
One of the most famous but hard to find animals on the island are our wonderful red squirrels. Whilst we won't guarantee you'll spot one, you'll find one of the best areas to see these is at the viewing area in Parkhurst Forrest.
If your love of wildlife leans more towards ornithology, then you'll love the Hershey Nature Reserve near Seaview seafront. This large nature reserve is home to dozens of different coastal birds and the occasional sneaky fox or two.
Cycle the Island
Cycling is great way to explore the Island, to see the sights along the way and resting with a well-earned picnic or pub lunch! With its miles of dramatic and breath-taking coastline, picturesque countryside.
In addition to the great scenery, there are hundreds of miles of well-maintained cycle routes
The family friendly Red Squirrel Trail is named after the Islands most famous wild animal which you may spot whilst on the trail, which has been tailored for cyclists who prefer car-free cycling on mainly flat, gentle routes. Much of this trail runs along purpose-made tracks along the Isle of Wight's disused railway lines, ensuring a leisurely cycle through the Island's countryside.
Exploring hidden coves
All the popular beaches on the Island are easy to get to and well documented in various holiday brochures and publications. However, there are some hidden gems, which are often missed by visitors and even some locals are unaware of their existence.
Steephill Cove, just outside of Ventnor, near the Botanic Gardens is one of the better known coves. The cove is not accessible by car and requires a bit of a walk down the secluded footpath next to the cricket ground. The path is suitable for pushchairs, so little ones can enjoy the beach too. At the bottom of the path, you'll find postcard worthy scene of beach shacks and lobster pots and even a restaurant or two.
Monks Bay, near Bonchurch is often entirely deserted as most visitors will flock to the nearby beachfronts and Shanklin and Ventnor, which are only a few minutes drive away. There are lots of rocky areas to search for wildlife and plenty of sand to spread out on.
Newtown Creek, between Yarmouth and Cowes is easily missed by many visitors to the Island, as it's situated in a very quiet and undisturbed area of West Wight. This is a perfect spot for dog walkers, and the scenery around sunset can be stunning, so pack a camera.
Great walks
The Isle of Wight has always been a popular destination with ramblers and hikers and is a dream destination for keen walkers. More than half of the Island is recognised as an area of outstanding natural beauty, and there are over 500 miles of dedicated footpaths including over 60 miles of coastal trails.
If you've visited the island recently and would like to share your own recommendations of places to visit, we'd love to hear from you.