Top Isle of Wight Pet Friendly Cafes
Penned on the 12th July 2016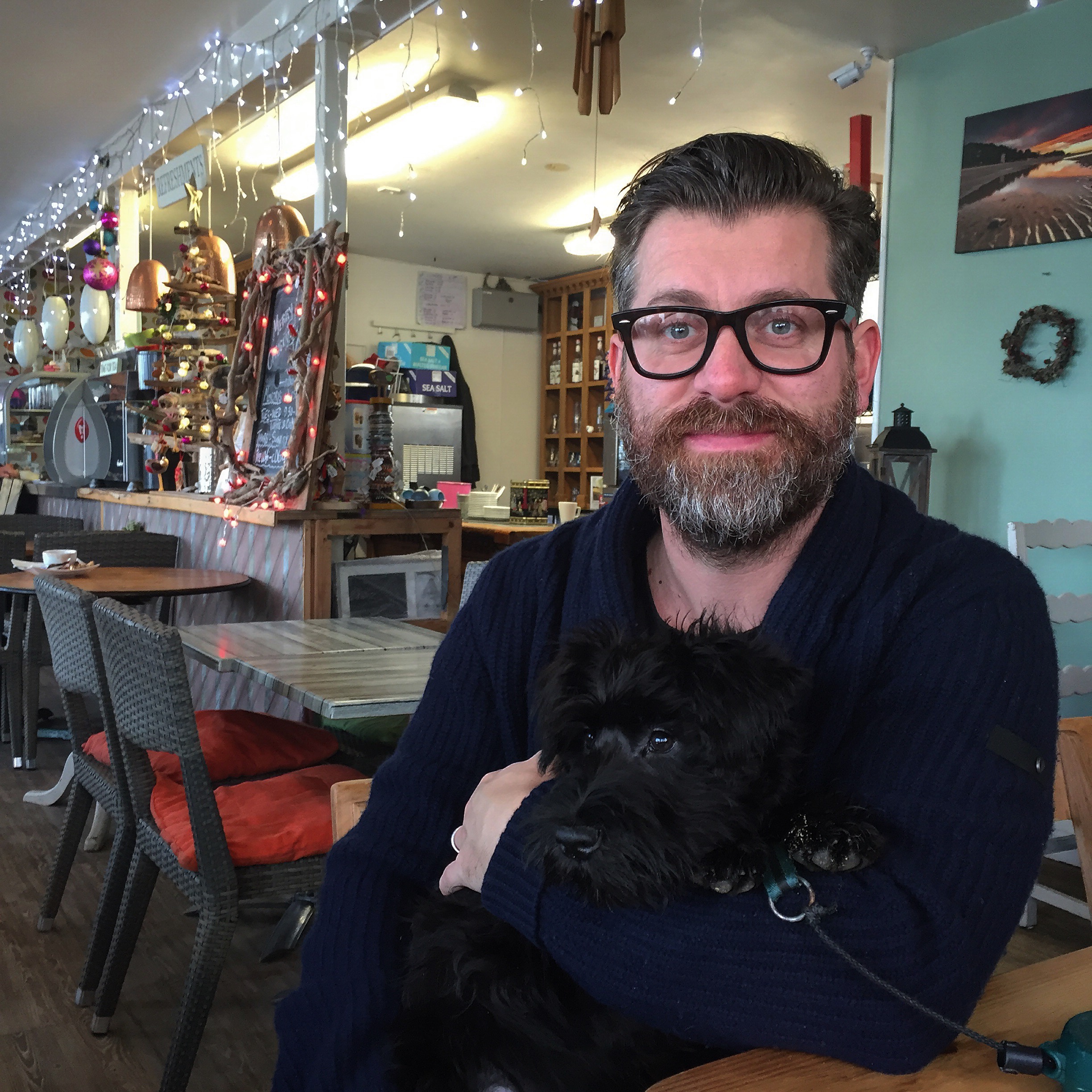 The Top 6 Dog Friendly cafes on the Isle of Wight according to manaboutadogblog
The Top 6 Dog Friendly cafes on the Isle of Wight according to manaboutadogblog
Cafe culture. It has to be one of the best things that France has given to the world, other than champagne, stinky cheese and Marion Cotillard. There is nothing that Grenson and I enjoy more than whiling away the hours in a busy little cafe watching the world go by. So it's lucky for us that Wight Locations have asked us to compile our 6 top pet friendly cafes on the Isle of Wight. Again, it's a hard job but some man and dog has to do it!
THE DELL CAFE - APPLEY
Now, it's wrong to have favourites. So all I'll say is that 99% of the time when I visit the Island a trip to Dell simply has to take place. We love it. Situated at the Puckpool end of Appley beach (a great dog friendly walk - see our 6 pet friendly beach walks) it is a perfect destination to head to with your pooch. And they'll have plenty of playmates when they get there as it is the go to destination for all dog-walkers, strollers and cyclists in the area. With food (I can recommend the breakfast) and drink (coffees and ice cold lager on tap) this good, it's hardly surprising. They are also open during the summer for tapas evenings. Personally I only truly know that it's really summer when I get to spend my first night sitting outside The Dell, enjoying a delicious meal, and watching one of the best sunsets (Clarkson pause)...in the world!
CANTINA - VENTNOR
Cantina is a lovely little cafe/bar right in the centre of Ventnor. As soon as you walk in you are hit with a table full of the most delicious looking bakes. We once bought a loaf with bacon in it. I then was able to make a bacon sandwich using bacon bread. My mind almost exploded! It's only a small cafe so booking is a good idea, but you won't regret it. From the logo customised mugs of tea to the cacti on each table, this place is cool and quirky. Grenson loved it as he got a bowl of water brought to him along with a whole load of fuss by the waitress, (he's a terrible flirt). We went for breakfast but it's open until 10 o'clock in the evening and has a mouth watering cocktail menu to go alongside the food. Very soon we must return and sample a marmalade sour made with their own marmalade! Yumbo.
THE PIANO CAFE - FRESHWATER
Over near Freshwater Bay and opposite the beautiful thatched St Agnes church you'll find the Piano cafe. A fairly new discovery for Grenson and I but one we've found is well worth the journey across the Island. It is an archetypal cafe, with high ceilings, dark wood interior, and large floor to ceiling windows that look out towards Tennyson down. By rights there should be an Edith Piaf record playing in the background and everyone should be smoking Gauloises. We really could spend hours in here savouring their coffee, made from their own four bean blend, and their delicious mezze meals. Like Cantina this is also open until 10 o'clock Thursday to Saturday with regular live music in the evening. So if, like us, you feel the need to lose a few hours here, you can stay until the evening, move from coffee onto the Curious Brew lager they have on tap, and enjoy whichever chanteuse is crooning away into the night.
THE CRAB SHED - STEEPHILL COVE
Steephill Cove is a little secret that everyone knows about. Despite this, when you walk along the revetment from Ventnor (the cove is only accessible by foot) and round the corner to get your first glimpse of Steephill you'll believe you've discovered the Island's hidden gem all by yourself. 'Magical' really is the only word. At the heart of this little cove is the Crab Shed, famous for its crab pasties. Seating is all outside (so check the weather before going) and leads down to the water's edge. Grenson and I grabbed a prime spot watching the boats bring in the catch. You don't get much fresher than that. And when I tasted the crab sandwich you could really taste that freshness. Probably the best crab sandwich (Carlsberg pause)....in the world!
THE MESS CANTEEN AND BAR - COWES
Think of Cowes and you think of men in red trousers and deck shoes quaffing champagne. At least that's what I think of, and I assume that there is some sailing that goes on too? But these days Cowes is about much more than the annual regatta. The Mess and Canteen bar is one of a number of new bars, cafes and restaurants that have sprung up around the town. Of all of them I reckon The Mess is at the top of the cool chart, with it's upcycled decor and drinks served in jam jars (I'm a sucker for a gimmick). It's not just the gimmicks that makes this place worth a visit though, with an extensive menu all from local suppliers you'd be hard pushed not to find something to your taste.
OFF THE RAILS - YARMOUTH
Quaint? Tick. Interesting surroundings? Tick. Delicious food? Tick. Dog friendly? Tick, tick, tick! This has to be one of the most perfect destinations for us dog lovers. There are plenty of great walks around it, including one that leads to the Red Lion in Freshwater (see top 6 pet friendly pubs). It is also simply an amazing building, set in the old train station complete with station platform that you can dine alfresco on. The food is great; when we were there they were doing a BBQ platter, a plate full of meat and fish - what's not to like? But the real clincher has to be the fact that the menu also includes a section for 'gourmet dog food'. I mean, really? What more can you possibly ask for?
So there you have it. Grenson and my top 6. As always I'm sure I've made some glaring omissions, there are after all a wealth of great cafes on the island. We welcome any suggestions that you think deserve a place, and we'll make sure we try them out soon. Oh yes, and if you're looking for a pet friendly cottage in the Island, you can view Wight Locations' selection here.
The Man and the Dog.