Top Isle of Wight Pet Friendly Pubs
Penned on the 24th May 2016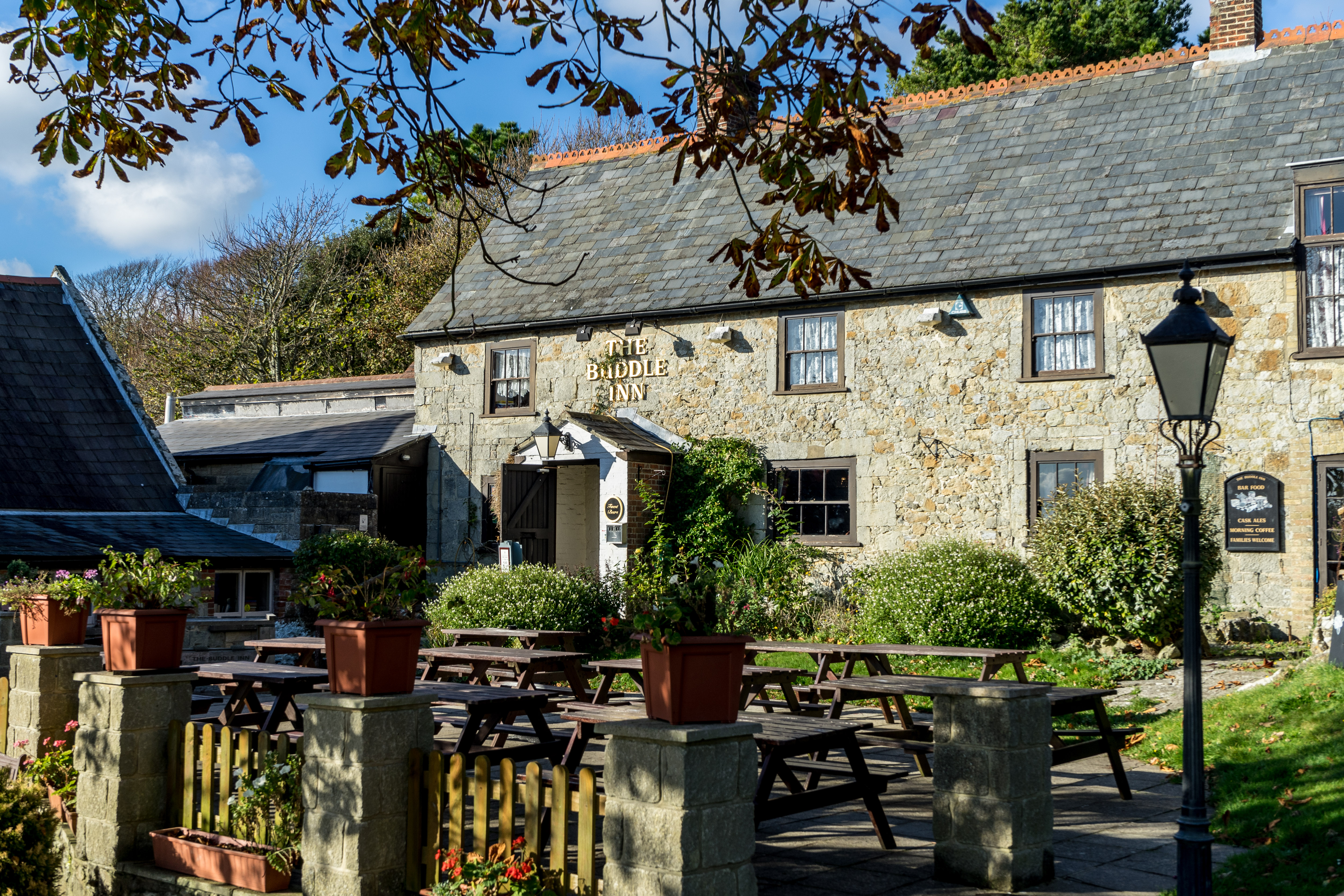 The Top 6 Dog Friendly pubs on the Isle of Wight
According to Manaboutadogblog
Those nice people at Wight Locations have asked Grenson and I to compile a list of our six (five just isn't enough) top dog-friendly pubs on the Isle of Wight. How exciting? But also a great responsibility. After all, visiting as many of the wonderful pubs that can be found on this glorious Island is a tough job … but, after much deliberation, we decided that we were indeed the right man and dog for this arduous task. Never let it be said that we don't stand up and take on the burden for others when necessary.
And so, here (in no particular order) are our top 6:
1.THE BONCHURCH INN
On the blog I find myself using the phrase 'hidden gem' rather a lot, but in the case of the Bonchurch Inn, this is a hidden gem, hidden within a gem. The village of Bonchurch is often overshadowed by its more famous neighbour, Ventnor, but it is well worth checking out, even if just to find this pub.Entry is gained through the stone courtyard at the rear of the property. The history of the pub goes back to 1840, but it feels much older. Quite frankly if Dick Turpin came cantering around the corner on Black Bess I wouldn't bat an eyelid. Inside it is like stepping into a hug. Just as you think you've worked out that it's a proper real ale english boozer, you look at the menu and realise it's actually a top quality Italian restaurant. I had the gnocchi, light as a feather and absolutely delicious.
2. THE HIGHDOWN INN
From one hidden gem to another. Hiding out under Tennyson Down, you will find the Highdown Inn. This pub feels like a welcoming protective arm around the shoulder, leading you away from the harsh elements that have blasted you on your trek across the downs, and settling you by the fire whilst pointing you towards the specials board. And what a specials board it is! Every dish is food with the highest of comfort values. The 'locals' are great characters too, and not just the humans. Whilst we were there one old gent came in with his collie dog, who had a little saunter around, gave Grenson a quick glance, then settled down at his usual spot at the bar and waited for the barmaid to serve him his usual (a bowl of water).
3. THE RED LION
You can't get much more 'village pub' than the Red Lion in Freshwater. Next to the pub is a church that was listed in the domesday book. All you need is a post office opposite and you'd have the quintessential English village. Any amatuer sleuths would happily cycle around this village poking their noses into people's affairs and stumbling across dead bodies. Not that you'll come across dead bodies in the Red Lion of course, just fine ales, top pub grub and comfy surroundings. We even managed to bag a leather armchair when we visited. To be honest, it's a wonder we ever left. If it wasn't for Grenson we probably wouldn't have, but this is prime dog walking country and there is only so much time that a young pup can spend sitting still in a pub, no matter how comfy it is.
4. THE POINTER INN
The Pointer Inn is a multi-award winning pub, that like the Red Lion, is also neighbour to a medieval church. It is confusingly this 900 year old church from which the village of Newchurch obtains its name. I suppose it was indeed 'new' in the 11th century?! As with most pub dining on the island there is a big focus on local produce, but here at the pointer they actually barter with local food producers exchanging beer and food for their ingredients. I love the idea of swapping leeks for a pint! For Grenson the main draw of this pub is the spacious beer garden that leads onto a field that is perfect for our canine friends to stretch their legs. Al fresco dining can take place in the warmer months too and there is a floodlit petanque course. Bring on the summer!
5. THE TAVERNERS
There are specifically two things that I love about the Taverners in Godshill. One, their adherence to local, seasonal food. And two, their fantastic little shop at the rear of the pub. I recently bought some lovely red ceramic plates that make every dish I ever put on them look instantly more tasty! Luckily the chefs at the Taverners don't need colourful plates to help out their dishes. Every one of them is a winner. When we visited I wasn't feeling too well (I've probably been overdoing the research. I told you it was a hard job!), so I just went for a ham, egg and chips. Somehow they managed to elevate a simple dish like that to delicious heights. I must go back when I'm feeling more myself though as the 'monkfish cheeks with pig face bacon' is a dish that sounds right up my alley.
6. THE YARBRIDGE INN
When we visited it was raining so hard that the short walk from the car park led to Grenson getting soaked. Any dog owner knows that wet dogs are crazy dogs! Usually he'll settle down to a snooze, but this time he insisted on sitting right in the middle of the thoroughfare from bar to restaurant. Fortunately the waiting staff were very understanding, and gave Grenson a lot of attention each time one of them passed. Which of course he loved. Meanwhile I concentrated on the top quality ale and grub. I ordered the pie of the day - steak and stilton, and was very pleased to see that it was a proper slice of pie. None of this bowl of stew with a puff pastry hat nonsense that is common elsewhere these days. Washing that down with a local Goddards ale whilst the rain hammered down outside … perfect.
So there you have it. Our top 6 dog friendly pubs on the Isle of Wight. I'm sure some of you have your own opinions about pubs that I've missed. If so let me know your thoughts. Grenson and I are always open to doing more research! And if you'd like to stay in a pet friendly cottage with Wight Locations, you can view them all here.
The Man and the Dog