Wellies & Walkies at Fort Victoria
Penned on the 14th March 2017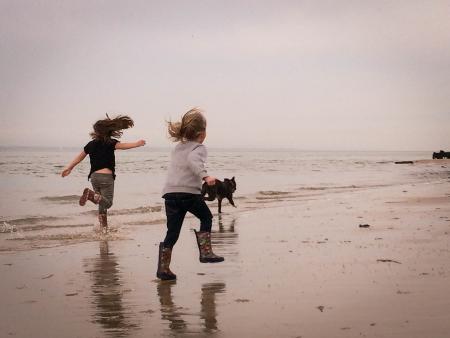 We had a lovely spring like day here on the Island this weekend so I thought what better way to spend it than getting out for a walk and dragging the family and the dog along with me to.
We chose Fort Victoria in Yarmouth as you can opt for a more sheltered walk of the nature trail through the woodland or the beach, which is one of many dog friendly beaches on the Island, and there is also Verdi's cafe that serves a really good portion of cake!
We started with the woodland walk where the kids love to find the wood carvings along the way, such as a lurking snake and a butterfly but I don't want to spoil all the fun so I'll let you find the rest!
Once you reach the viewing point you can perch yourself on a bench, take a breather and take in the lovely views over the Hurst Channel to Hurst Castle, near Lymington which is beautiful on a clear day. This is the shortest distance from the Island to the mainland, the channel is just 0.8 miles wide and over 50 meters in depth. Hurst Castle is also where King Charles 1st was held prisoner before his last journey to London from Carisbrooke Castle, another great day out for the kids.
Although the weather was fairly warm for March it was still a little muddy, well the dog and the kids were, so we headed back down to the beach where we could wash off our wellies and the dog's muddy paws in the sea. The kids love chasing the waves, (I knew I should have packed some spare clothes!) and the dogs love chasing the kids, so I was able to sit back for a moment and enjoy the view.
I love days like this, the simple things in life are almost certainly the best!