The Art of Collecting Sea Glass
Penned on the 22nd April 2021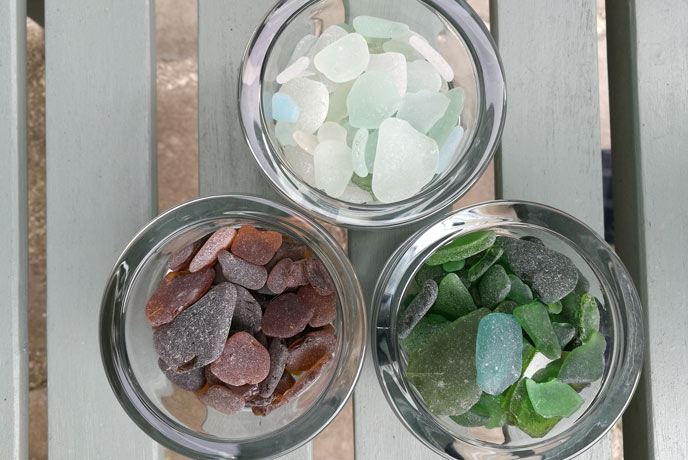 Head to the eastern side of the Island and search for treasure waiting to be discovered on the beach. Sandown, Lake and Bembridge are all places you may be lucky enough to find sea glass.
I have fond memories of beach combing as a child, seeking out interesting shells and pebbles. The real jewel in the crown was finding pieces of sea glass and to this day I am still compelled to look whenever I am at the beach.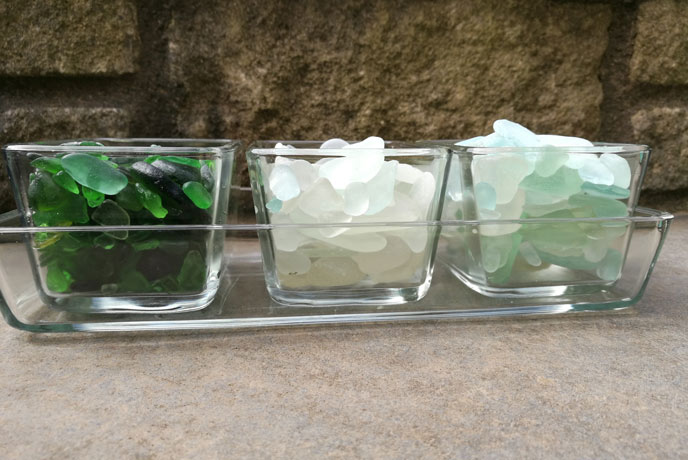 Wherever I am near the coast I am always drawn to the beach to look for sea glass. I wouldn't exactly call it a hobby as such, just when I am in a potential sea glass collecting area, I just can't resist looking. It must be one of the most relaxing ways to spend time and hours can go by in a dream like state, and it is hard to walk away once started. My house has many a vase and container full to the brim, some would say I'm a bit obsessed as my glass collection is colour co-ordinated and sorted into different receptacles.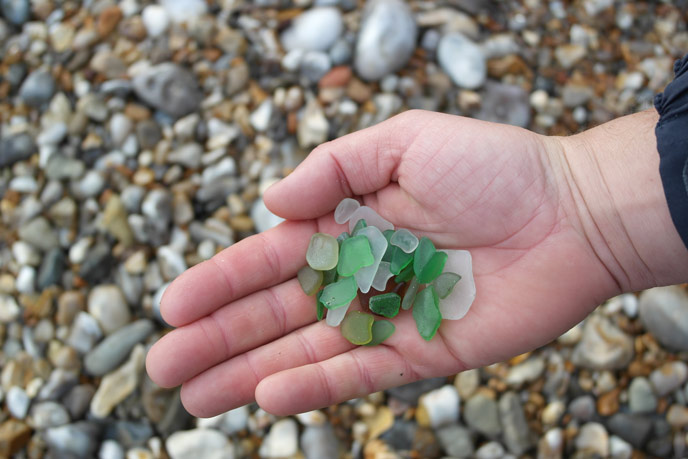 Sea glass happens when broken glass is tumbled around in the sea until all the edges are worn down and smoothed. The surface loses its shine and becomes opaque with a frosted appearance. The process takes 20 – 40 years and a myriad of colours can be found. Some beaches have no glass, others are a treasure trove so it's worth doing some homework before you set off to look. I am fortunate to live in Cornwall and have found several beaches around the Helford estuary to be bountiful. There is a knack, start at the waters edge and look amongst the smallish pebbles along the tide line. It's rare to find glass on sandy beaches. Un-focus your eyes and concentrate on seeing brighter colours. As you spend more time looking, you will find pieces easier to spot. Green is one of the most common colours and comes from bottles such as beer and ink, whereas white (also common) is mainly from plates and glasses. Less common colours are blue which come from poison bottles and even more rare red and purple. I've only found a few blue pieces over the years and have never come across red or purple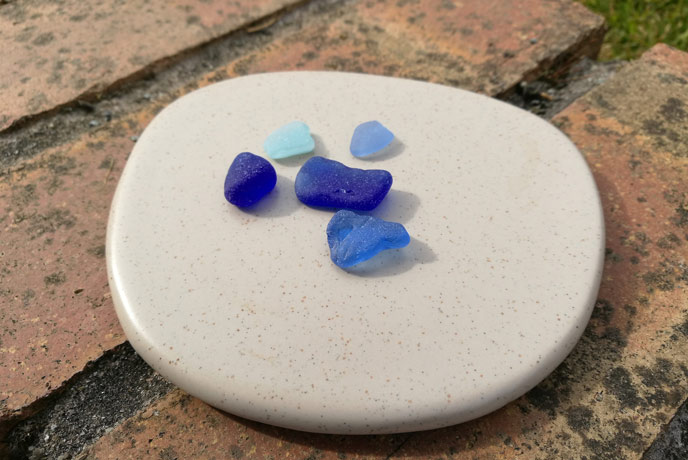 The best place to search for sea glass in the UK is a small town called Seaham on the North Sea coast. I've never been but it is definitely somewhere to head for. One place I have been to many times is The Isle of Wight and this is another good place to search, particularly around the easterly edge of Sandown and Lake. Wait for low tide as the beach all but disappears when the tide is in. Try near the pier where you are more than likely to join other glass seekers. Bembridge has a fabulous five mile stretch of flat beach and if you look hard enough it is possible to find some pieces there too.
Sea glass looks beautiful displayed in clear glass receptacles, the pieces can then be admired from every angle. Placing them on a windowsill gives extra depth to the colours but wherever you display your collection, it is bound to bring back happy memories of time spent on your favourite beach.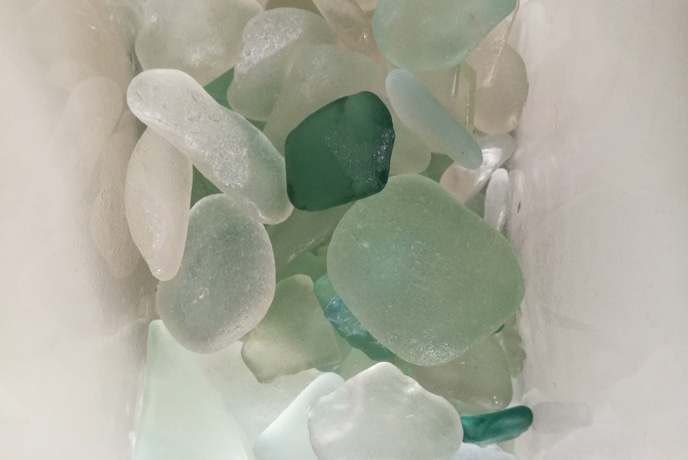 We have some fabulous places to stay near to beaches where you can wander and search for beach treasure to your hearts content. Take a look at our portfolio of properties here on the Island and start planning your next adventure.