Isle of Wight Bucket (& Spade) List
Penned on the 19th January 2018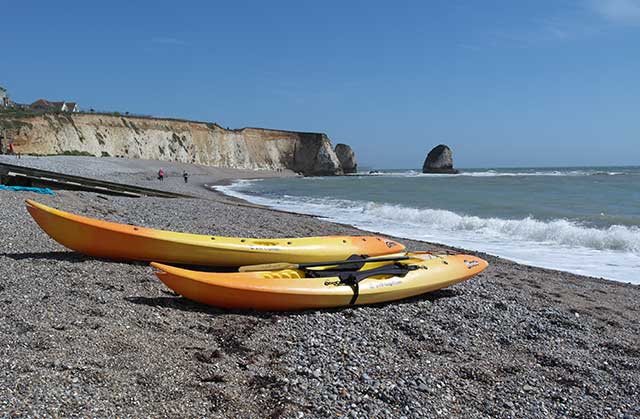 There's so much to do here on the Island for Visitors, it's sometimes very difficult to choose. So, to help you plan your days out during your visit, we have compiled a list of 'must do's' from our very own Bucket list…. In no specific order:
Get lost in a Maze – Not a metaphor, we mean an actual maze, and there's more than one to choose from. On the south of the Island, you'll find the world's oldest theme park – Blackgang Chine, which has a large traditional topiary maze, which I admit to being lost in, on more than one occasion as a child.
The Griffin Pub, in the very picturesque village of Godshill also has a large topiary maze in the Garden, which the little ones can run around in for hours, while you enjoy a pint in the beer garden.
Find a Dinosaur – The Isle of Wight forms part of the UK's 'Jurassic Coast' which means it's teeming with dinosaur fossils, many of which can be found along the cliffs at Brook beach and Compton Bay. The Dinosaur museum in Sandown has many examples of specimens found on the Island. If you're patient and know what you're looking for, you may find your very own fossil whilst exploring the south coast, including some very well-preserved Dinosaur footprints at Brook beach.
Go to a Music Festival – The Isle of Wight is synonymous with Music festivals, dating all the way back to 1969, and the infamous first Isle of Wight Festival. Since the revival of this event in 2002, the number of music 'festivals' on the island has grown each year, and we now have dozens of events taking place throughout the year. If wellies and warm lager in a paper cup isn't your cup of tea, you could always try one of the alternatives, such as Ventnor Fringe, Eklectica, Jack up the 80's, VDub Island, Jazz Weekend or Classic Isle.
Get out on the Water – It goes without saying that just getting to the Isle of Wight involves getting on a boat… but that doesn't count! There's so many ways see and enjoy our coast. One of the simplest is to rent a kayak (or bring your own) and these can be rented from locations all over the Island. For budding sailors, you can hire a sailing dinghy at the Seaview Yacht Club, or take a course at UKSA in Cowes. If that's not exciting enough for you and you're on the Island during Cowes week, you can take part in regatta on board a racing yacht or out on a high speed RIB with Solent Events.
Walk the Wight – In mid-May, hundreds of visitors and locals take part in a charity event, organised by the Earl Mountbatten Hospice which involves walking the entire length of the Island, taking in some incredible rural and coastal scenery. There are shorter walks organised for those not able to do the whole 26.5 miles. If you're not on the Island in May, there's plenty of other walking activities to do all year round and the Island has plenty to offer, with over 500 miles of footpaths through the countryside and along the coastlines.
Build a Sandcastle – This is the part where the buckets and spades come in handy! Many of the Islands beaches are sandy ones, perfect for a bit of seashore sculpting. Compton bay, near Freshwater hosts an annual sandcastle competition in August, and similar events take place in Ryde and Sandown throughout the summer. Our own top spots for building the best sandcastles would be Appley Beach, Sandown and Lake Beach, Compton Bay and Seagrove Bay.
Explore a Forest – The Island has a few forests to explore, which are popular with dog walkers, mountain bikers and just people out for a family walk. Parkhurst Forest near Newport is the largest, and is popular with wildlife enthusiasts keen to spot one of the Islands famous Red Squirrels. On the south of the Island, high up on the Downs is Brighstone Forest, which is a little hillier than Parkhurst, which may appeal to the bikers. Between Newport and Ryde, you'll find Firestone Copse, which is wheelchair accessible and leads down to the lake at Wotton Bridge.
Get Married – Bit of a drastic one, but if you're planning on tying the knot, there's something appealing about escaping to an Island to do the deed, and who doesn't love a destination wedding?!
in the last few years, the number of venues offering wedding ceremonies has increased considerably, and we have some incredible venues now available. Barton Manor, which was part of the Queen Victoria's estate at Osborne now host weddings on the estate, which has its own private beach. A slightly different but fantastic location available is the Botanic Gardens In Ventnor, which is Britain's hottest garden.