Ryde, Gateway to the Isle of Wight
Penned on the 8th November 2013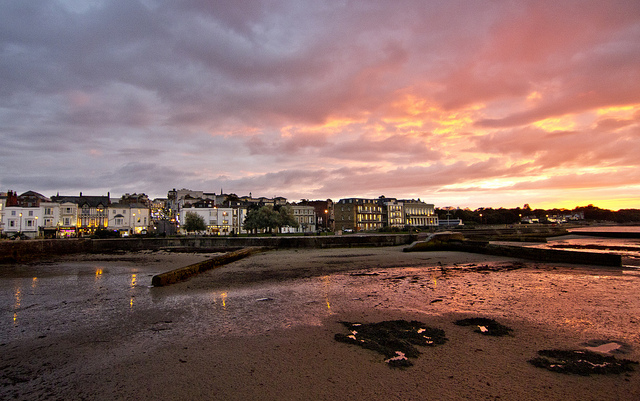 Ryde is the main gateway to the Isle of Wight, at the north east end of our heart shaped Island. So with the combination of incoming visitors, day trippers and locals, Ryde is the busiest town on the Island.
The architecture still harks back to a strong Victorian influence and is home to the oldest pier in the UK being 200 years old. It is also the fourth longest as the white sandy beaches stretch out for miles at low tide, making Ryde and particularly Appley beach further down, the perfect place for families with little ones to enjoy them safely.
It is well worth a walk at low tide along the beach from Ryde to Seaview through Appley and stopping at fabulous Dell Beach Café to chillax with tasty treats and stunning views.
There is even a famous Brambles cricket match that takes place once a year in the middle of the Solent when the tide is at its' lowest ebb, and the infamous annual Fort Walk from St Helen's/Bembridge.
There are loads of attractions and activities within walking distance of Ryde pier, such as the bowling alley, ice rink, and boating lake with white swan pedal boats. Next to the boating lake is a fabulous glass encased swimming pool which opens up to the elements in the summer.
For a bit of outdoor adventure activity for kids of all ages visit our friends at Goodleaf Climbing in Appley for a healthy dose of fun and fresh air.
There are a few open park spaces around the town if you want to get away from it all including Appley, Puckpool Park, Vernon Square, Simeon Street Recreation Ground, St John's Park, St Thomas' Churchyard and Salter Recreation Ground.
The Island Speedway events take place just out of town and make a great night out or also on the outskirts in Havenstreet you can pick up the famous IW Steam Railway which has events pretty much all year round.
The main town has many bars, restaurants and plenty of shops centring in and around the main Union Street. The Orrery Café in the centre of town is well worth a visit as is the boutique shop Zabre, sympathetically housed in an old bank building. Ryde is also home to the main head office of the now global natural skincare people Liz Earle, so while there, stock up on their quality products and why not book up a pampering treatment such as a facial or massage.
There is parking on both sides of Union Street allowing an hour's free parking at a time. Parking permits can be purchased from the local library which can be used at any council car park across the Island.
Being a gateway town, the main bus station feeds all the major routes across the Island so weekly/family tickets are well worth purchasing, making Ryde a great place to visit if you want to leave the car at home.
The oldest Hover service in the world at 150 years, Hovertravel operates out of Ryde, and takes only 8 minutes to cross the Solent to Southsea. It is well worth a 'flight' on this feat of engineering with a day trip to Gunwarf Quays for a spot of shopping and dining out at one of the many great eateries on the seafront. My favourites have to be Wagamama's or Chiquito.
Ryde is the birthplace to several celebs including Level 42's Mark King and Hollywood director Anthony Mingella. Lennon and McCartney's "Ticket to Ride" was supposedly inspired by a trip they took to the town in the 60's.
August Bank Holiday sees over 5,000 scooter enthusiasts descend on the town and the Island becomes awash with Vespas, Piaggios and shining with mirrors and proud owners. Ryde is also famous for its' Carnivals which are reputedly the oldest in England.
Home to some fine restaurants such as Olivo's in Union Street for quality Italian or Monsoon at the top of the hill for a great Indian, a trip to Ryde cannot pass without a meal at the recently opened Three Buoys Restaurant at Appley Beach, which serves delicious food in the most beautiful of settings looking out to sea.
If you like a seaside town with a bit of hustle and bustle, plenty to do and great sandy beaches, Ryde is the place for you. If not, stay in the quieter and very quaint Seaview Village next door and travel in for all the fun.
Wight Locations has a few perfectly placed self catering holiday cottages in Ryde and plenty in the nearby village of Seaview for you to choose from.
So what are you waiting for…